Automatic air vent VT.502
Automatic air vent VT.502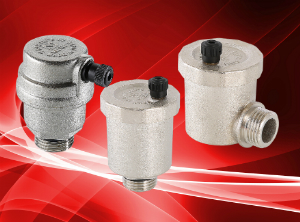 To the attention of the customers: currently there are several types of automatic air vents VT.502 in the range of VALTEC, which differ in design, method of connection to the pipeline and the sphere of recommended use.
VT.502.NH – automatic air vent with spring actuator, lower connection and lateral location of the air outlet. The spring mechanism is reliable, since it has no friction parts. The lateral arrangement of the fitting allows the air vent to be installed very close to the ceiling.
The features of this air eliminator include an increased sensitivity to the contamination of the coolant. Insoluble particles can get stuck between the turns of the spring, making the operation of the device incorrect.
Air vent with a jet model VT.502.NH.04 are demanding for the quality of the coolant in the system. They are recommended to be put in closed heating systems, where the user performs water conditioning and purification (filtration systems are installed).
Scope of application of these air-outlets: collector groups and distribution units, safety groups of the boiler, collectors of the warm floor, etc., hydraulic separators (hydro-guns).
VT.502.NA – automatic air vent with lever actuator, side connection and top position of the air outlet fitting.
VT.502.NV is an automatic air vent with a lever actuator, a lower connection and an upper position of the air outlet fitting.
The lever actuator is less sensitive to contamination of the working medium and increases the throughput (by air) of the air vent.
The actuators of the VT.502.NV.04 and VT.502.NA.04 series are in the form of a rocker with a spring-loaded sealing platform of improved design. Due to this, the air vent is less sensitive to the quality of the coolant.
The scope of these models: open heating systems, radiators, convectors, etc., heating pipes, hot and cold water supply, air separators.
Principle of the air vent operation: