Attention! New Product!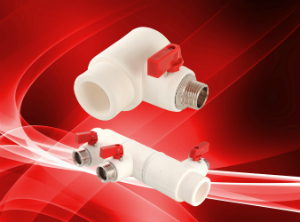 The polypropylene manifold with built-in VTp.780 ball valves available in the VALTEC range is equipped with weld ends, what means a dead connection of the collector outlet with the pipe, which is not always convenient in practice. Installers often weld to the manifold outlet various adapters on the thread, constructing bulky structures. Introduction to the range of VTp.734 polypropylene connector tee partially eased the task, but this solution requires the installation of a stop valve, which increases collector units' dimensions.
Taking this into account, VALTEC has introduced a polypropylene tee with a ball valve VTp.781 into the product range, which allows the installation of compact distribution units with supply pipes' plug-in connections. Thanks to brass cone (1/2") or Eurocone (3/4") outlets, pipes can be connected to such a manifold using conventional manifold fittings.