New staff for warm floors
New staff for warm floors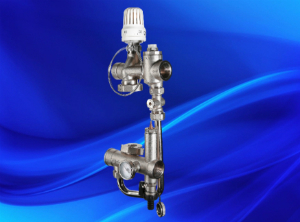 VALTEC equipment list for the water warm floor enjoys a new position - this is a new VT.VALMIX pump-mixing node.
VALTEC VALMIX pump mixing node is designed to create an open circulation contour with a temperature of heat-agent lowered up to the installed level in the heating system.
Main differences of the VT. VALMIX node from the VT.COMBI pump-mixing node:
No cross valve.
The mounting length of pump is 130 mm (VT.COMBI's length is 180 mm).
Manual rather than automatic vent plug.
No ball valves on the pump input and output.
Greater compactness.
Lower cost.
The VALMIX node is supplied without a pump. Recommended models for making a set are VRS 25/4-130, VRS 25/6-130.
Use VT.TE3061 servoactuator with VT.K200.M controller.