Addition to the range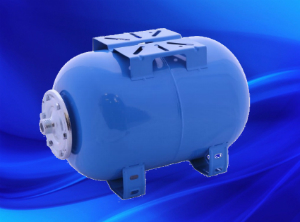 The range of VALTEC equipment for water supply is completed with membrane tanks (pressure accumulators) of the horizontal type VT.AO.B.
Horizontal membrane tanks VT.AO.B are equipped with a replaceable membrane of EPDM. The body of the tanks is made of carbon steel, painted externally with epoxy polyester of blue color, equipped with welded legs for installation and a platform for fastening the pump.
VALTEC tank accumulators are designed for cold and hot water supply systems, including drinking water. It is also possible to use them as expansion tanks of heating systems with an operating temperature of up to 100 °C.
In addition, in our company you can now purchase custom-made membrane expansion tanks for VT.VRV.R heating systems with capacities of 200, 300, 500, 750, 1000 liters, as well as membrane hydraulic accumulators VT.AV.B for 200, 300 and 500 liters.