New threaded fitting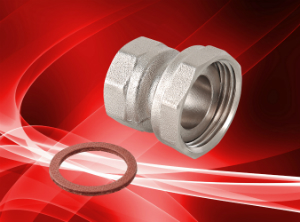 The range of VALTEC threaded fittings has been expanded with a female threaded union pipe fitting VTr.614.
Threaded union pipe fittings ensure making detachable pipeline connections for various purposes and setting up fittings which can be dismantled without disassembling the whole pipeline.
The threaded union pipe fitting VTr.614 can be used to make a detachable connection of steel pipelines with expansion tanks, water heaters and heat exchangers.
The new product is currently offered in two standard sizes: ½ × ¾" and ¾ × 1".
The connectors are made of nickel-plated brass by hot forging, with flat sealing paronite gaskets.