Novelty in the range of automation
Novelty in the range of automation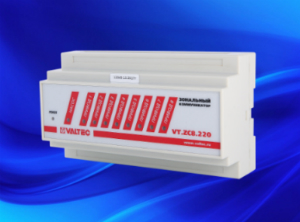 The range of VALTEC automation was expanded by the novelty – zone communicator VT.ZC8.
The use of the communicator facilitates the installation of automation and makes it possible to group thermostats and servos (servos of one group are switched on by the signal of one thermostat). Communicators can be combined among themselves in blocks to increase the number of managed channels.
The communicator has a relay output for controlling the circulation pump of the heating system. If there is no request for heating (all the thermostatic valves are closed), the pump automatically turns off, thereby saving electricity and extending the life of the pump.
Previous model – VT.ZC6 – discontinued. Below are the features of the new model compared to the old one:
Characteristics / Mode
VT.ZC6
VT.ZC8
Number of channels
6
8
The number of communicators,
united in one block,
3
2
Supply voltage, V (50/60 Hz)
24
24 (VT.ZC8.24),
220 (VT.ZC8.220)
Type of servo units
NC
NC, NО
Maximum voltage commutation
for channels, V (50/60 Hz)
24
24 (VT.ZC8.24),
220 (VT.ZC8.220)