VALTEC VALMIX pump mixing node
VALTEC VALMIX pump mixing node
(VT.VALMIX.0) VALTEC VALMIX pump mixing node is designed to create an open circulation contour in the heating system with a temperature of heat-agent lowered up to the installed level. The node maintains the specified temperature and consumption level in the secondary circulation contour, and allows you to adjust the temperature and the consumption of the heat-agent based on user requirements.
The VALMIX node is typically used in built-in heating systems (warm floors, warm walls, open-area heating, etc.).
The pump-mixing node is adapted for joint use with the distribution manifolds of the warm-floor hinges at the intercentered distance of 200 mm between hinges. The node is supplied without a circulating pump.
The mounting length of the pump used shall be 130 mm (for example, the models VRS 25/4G-130; VRS 25/6 G-130 can be used).
You can use VT.5011 and VT.3011 thermostatic heads with remote sensor as thermostatic valve actuator. Use VT.TE3061 servoactuator with VT.K200.M controller.
Node mechanics: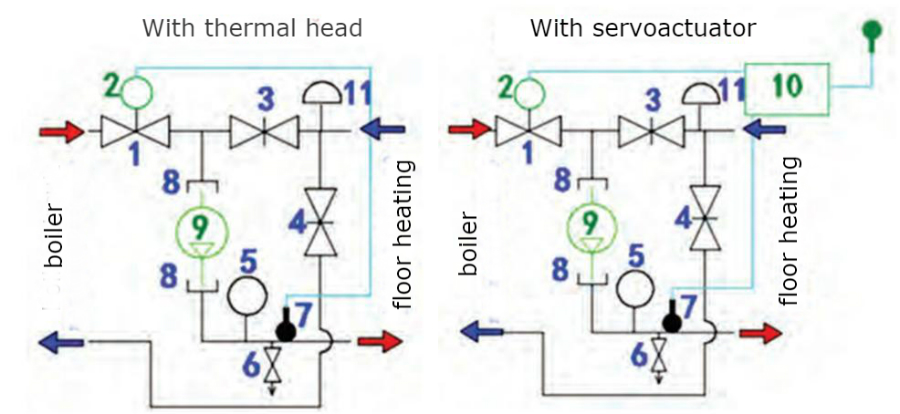 Legend: 1 – thermostatic valve; 2 – thermostatic head with remote sensor (supplied) or servoactuator; 3 – secondary contour balancing valve; 4 – primary contour balancing valve; 5 – thermometer; 6 – clearing plug; 7 – temperature sensor sleeve; 8 – coupling nuts with the gaskets to connect the pump; 9 – circulation pump (not included into the package); 10 – controller (not included into the package); 11 – manual vent plug.
Article
Size / number of
Price per unit
VT.VALMIX.0.130
200 mm, 130 mm
8600 p
* Prices shown are recommended retail prices by the manufacturer
Mixers and valves