New product!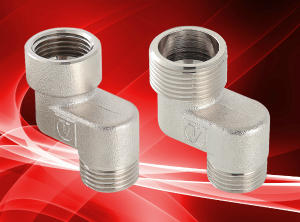 In the range of threaded fittings VALTEC have been included new 2017 catalog items – the brass cams VTr.094.N and VTr.095.N.
Cams are manufactured from CW617N brass by hot forging with subsequent Nickel plating and can be used on various pipelines at the operating pressure of up to 16 bar and temperature up to 130 °C.
New cams have following sizes: VTr.094.N – ½, ¾ , 1" MF, VTr.095.N – ¾" х ½"; 1" х ¾" M. These models allow for displacement of the pipeline axis for 10, 20 or 30 mm.
.