New water-stop valves items in the range
New water-stop valves items in the range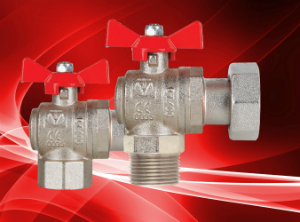 The range of VALTEC has been increased with the addition of two angular ball valves – VT.266 and VT.267.
Novelties resemble the popular ball valve VT.228, but instead of a half-wagon they use a union nut. Many elements of engineering systems, such as wall-mounted boilers, boilers, pumps, etc., have an external thread. They can be connected using a conventional valve using a gasket, but it is much more convenient to connect it by using a union nut.
Ball valves VT.266 and VT.267 are equipped with a union with a coupling nut, which not only allows you to quickly mount the product, but it is also easy to maintain or change the equipment: unscrewing the nut is much easier than twisting the entire valve. A gasket made of paronite is included in the complete set of the crane.
Note: the crane VT.267 has an external thread, which significantly expands the possibility of its use.
Angled ball valves with union nut VT.266 and VT.267 are well suited for connection to heating and water supply pipes of wall boilers and water heaters.