New in the VALTEC pump mixing shunts section
New in the VALTEC pump mixing shunts section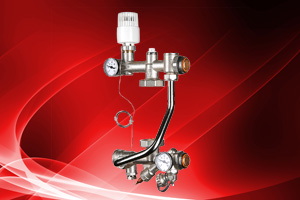 Here's a new VALTEC TECHNOMIX pump mixing shunt.
The following changes have been made to the structure, compared to the VT. COMBI model showing excellent performance:
the ball valves are excluded before and after the pump;
One manual (Maevsky air-purged) valve is installed instead of two automatic air valves;
There is no pressure-relief valve;
A pump with the length of 130 mm is used instead of a circulation pump with the mounting length of 180 mm;
Only one drainage valve is installed instead of two;
A built-in return valve was added after the pump.
These changes allowed the shunt to become cheaper, it is more convenient in mounting and operation, while VT COMBI's basic passport specifications are preserved. The shunt can operate via K200.M weather-based controller.
In this case, instead of the thermal head with an extension sensor, VT.TE3061 analogue electrothermal servoactuator shall be mounted on the thermostatic valve.
VT.TECHNOMIX shunt and all its components are manufactured in Italy.