New tools for fitters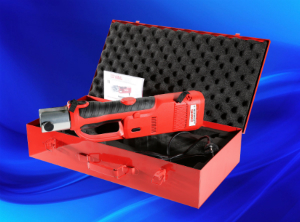 The assortment of the VALTEC press tools now offers an new model – VT.1550.CZ.
The VALTEC CZ radial electric tool is designed to carry out moulding together various types of pipes (metal, polymer, including PE-RT pipes, copper and stainless steel) pipes with an outside diameter of 10 to 108 mm (3/8"– 4").
The tool is equipped with a hydraulic power supply of 490 watts, which is powered by an AC power source for 220–240 V, and creates a proof-test pressure of 3.2 tonnes. Automatic reversing, sound and light alarms, notifying of errors in operation, self diagnose functions when plugging the tool on, light alarms, notifying of approaching term of/necessity of maintenance (with periodicity of 30 thousand cycles) are provided. Instrument weight is 4.1 kg.
The hydraulic drive provides for a minimum amount of wearable parts and increases the lifespan. The estimated lifespan of the tool, provided that the average full resource is not exceeded (2,000 machine/hours) and maintenance conditions are followed, is 8 years. VALTEC CZ electric moulding tool is supplied in a handy metal case with slots for capping pieces.
Capping pieces are not included in the kit, but purchased separately for each profile and diameter of the piping to be connected: when installing VT.200 press-fittings (for PEX-AL-PEX, PEX-EVOH, PE-RT pipes), «TH» (VTm.295) profile capping pieces are required, VT.INOX-PRESS system VTi.900 series press-fittings require the «V» profile (VT.5701xx).